Make Your Own Transformer Balanced J-Fet Active DI!
Detailed Illustrated Assembly Manual: Bumblebee Bb-D1 Active DI
Review in MusicTech Magazine, issue #164 from November, 2016:
Bb Active DI, issue 164, page 90
Bb Active DI, issue 164, page 91

Bumblebee Bb-D1 is an active direct input box with the j-fet input stage and custom designed toroidal output transformer. J-fets are know to be the most "tubey" sounding semiconductor elements with sonic coloration resembling the character of pentodes, j-fets also have very high input impedance, which is very beneficial for passive guitars and basses due to very detailed reproduction the high frequency range, making the sound dynamic and lively. Toroidal transformers have many benefits as well, the most important of them being a very high natural immunity to EMI eliminating the need for extra screening and very low winding resistances minimizing the signal loss and thermal noise.
Circuit Operation Overview
The circuit does not have a negative feedback, which is very beneficial for the sound quality, but the downside of such approach is the necessity to sort the j-fets in ranges by their Idss (maximum idle current) and to pair with different source resistor (Rs) values for each range. Not too good for serial production, but perfect for DIY, so every builder could benefit from the great sounding simplicity. The kits will come with j-fet/Rs pairs properly picked, so the hardest work is done for your.
The second stage is a typical bipolar transistor emitter follower (current amplifier), which acts as a low impedance transformer driver for the best reproduction of the low frequency material, obviously it is very critical for using the DI with bass guitars, which is probably the main application for active direct boxes.
The other important detail is the application of phantom power. It is not a secret that the quality of phantom power supplies in modern budget equipment is often questionable, thus the direct box features a two-stage passive filter and an active voltage regulator made with three zener diodes, in order to make sure that only the perfectly clean current is powering up the device.
The circuit does not require any adjustments or setting-up and will work right away when assembled.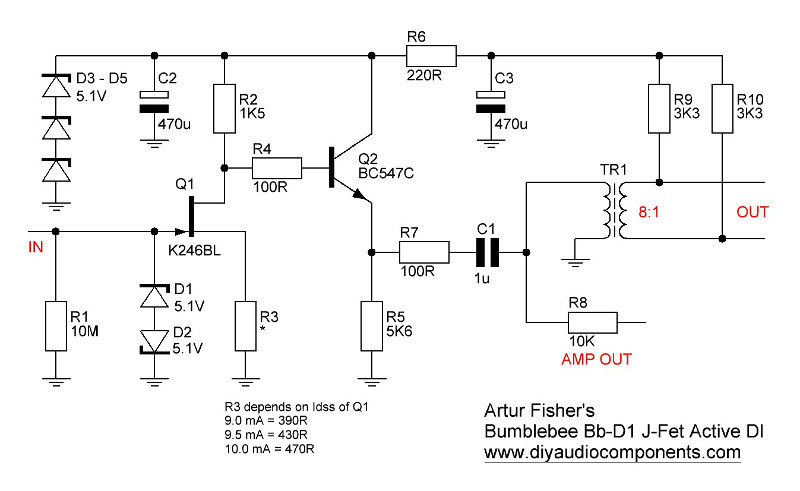 What exactly is included?
Everything. All the parts needed for making the Bumblebee Bb-D1 Active Direct Box are included.
All the electronic components - resistors, capacitors, diodes, transistors
Custom-made 8:1 toroidal output transformer of our own design
Printed Circuit Board (PCB)
XLR output plug and jack sockets with wires
Powder coated and silk-screened enclosure with all the screws
Illustrated Assembly Manual
Check out the detailed assembly manual with every step well-described and clearly illustrated with photographs. The kit is easy enough to DIY for any person with minor experience in electronics, only basic soldering skills are required.
Bumblebee Bb-D1 Active DI Kit Assembly Manual
Technical Information
Input Impedance: 10 MOhms
Maximum Input Level: 1.25 Vrms (+4 dBu)
Output Impedance (Balanced Out): 50 Ohms
Output Impedance (Amp Out): 10 KOhms
Dimensions (L x W x H): 135 x 75 x 45 mm