RE-323 Ribbon Microphone Motor for DIY Mic Project
Product Code: RE-323
Availability: In Stock
The price excludes 21% VAT (only applicable to orders from EU states). If you have a valid EU VAT number you will be able to enter it during the checkout for a VAT-exempt invoice.
Assembled Ribbon Mic Motor for DIY Projects.
New Product! Released in 2015.
RE-323 is the essence of five years of research, development and experiments in ribbon motor technology we've went though during designing, making and enhancing our RE-154 ribbon microphone motor (now discontinued) that later upgraded to RE-254 motor, which is available now as well.
The frame of RE-323 serves as magnetic flux return circuitry - it concentrates the flux in the ribbon gap increasing the output signal level and reducing the flux leakage into the outside world down to a level that assembled microphones don't attract to each other at all. The frame is designed involving magnetic flux analysis software to ensure the even magnetic flux distribution and no flux concentration hot spots that would otherwise reduce the magnetic permeability. Such approach results in slightly higher signal output level then RE-254 has, while using twice smaller magnets!
Technical Data
2.5 micron aluminum foil ribbon, 1" long
N42 neodymium magnets
Precision CNC machined
Hand assembled and tuned in our lab
Matches perfectly with our RTP-28 Toroidal Output Transformer
RM-5 Slim Microphone Body is available for the complete project
Dimensions: 82 x 21 x 14 mm (3.35" x 0.86" x 0.55")
Recommended Transformers
For RE-323 motor with 2.5u ribbon RTP-35 transformer is recommended
For RE-323 motor with 1.8u ribbon either RTP-35 or RTP-28 can be used, the sound will be fatter (more bass content) with RTP-28 and more airy with RTP-35.
For RE-323 motor with 1.2u ribbon RTP-28 transformer is mandatory
The Difference Compared to RE-254 Motor
RE-323 is a small ribbon motor (1" long ribbon), such motors generally sound more natural than long ribbon motors, which tend to have slightly more coloration due to higher mechanical distortion caused by more vibration nodes in longer ribbon. RE-323 sounds flatter in high-mid range, while RE-254 are slightly sharper. The output level of RE-323 with the ribbon of the same gauge is around 3db higher.
The practical application, as always, is a matter of personal preference. Many people find that the sonic properties of longer ribbons contribute a lot to vocals, saxophones, harmonicas and other instruments when some extra boldness is desired. On the other hand, smaller ribbons contribute to the recordings when natural sound, air and transparency are of higher importance, like drum overheads, acoustic guitars, grand pianos, room microphones, etc. However, the difference is quite subtle, so it is mostly a matter of taste. Use your creative approach and experiment - this is the only way to find the right tool for your particular goal!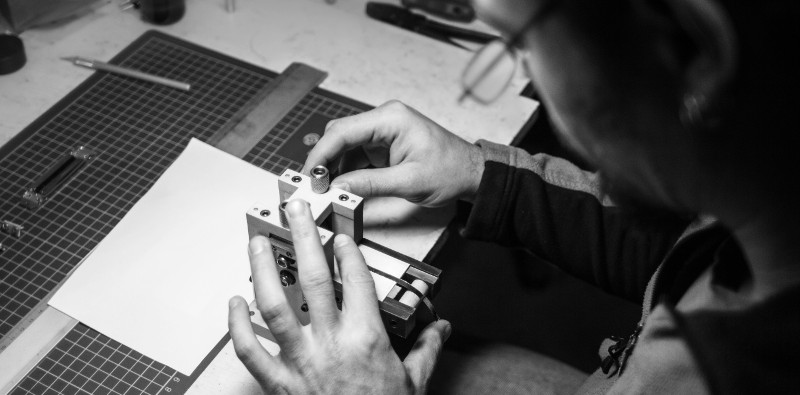 How to make a microphone using an RE-323 motor?
As You might know, electric circuitry of a classical ribbon microphone consists of two parts only: the motor itself and a step-up transformer. For normal studio use the third required component is a generic male XLR plug. Just solder these three parts together (5 - 6 solder points only) and you've got a working and ready to use ribbon microphone assembly!
Another task for your DIY creativity is a body. The best choice is a non-magnetic metal, like brass of stainless steel, as they have good screening properties, but many people have used plastic pipe for this purpose with excellent results. Some used bodies of old non-working ribbon mics. You can refer to the technical drawing of the motor to make sure it fits.
You can also use a dedicated modern-ribbon-style slim body of our own design and production.
Is it really that simple?
Yes! Check out the photo of a full working assembly made from an old RE-154 DIY ribbon motor with a plastic frame (now discontinued) and a generic output transformer below. Such assemblies are solid enough for most studio applications when soldered carefully. I have used such plain assemblies for recording by hanging the motor on a mic stand with a piece of wire before I designed the body.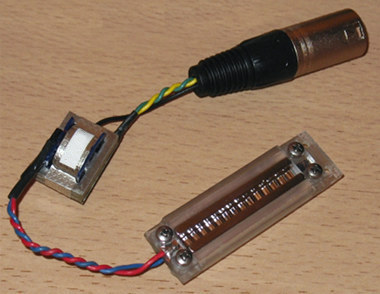 Is it safe to ship?
Yes! The motor ships packed in cardboard and tightly wrapped in a bumble wrap cocoon to avoid the possible air motion around the ribbon. I have been shipping the assembled ribbon mic motors since 2010 and I can assure you that the possibility of shipping damage is extremely low.
Dimensional Drawing: