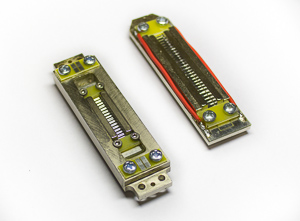 RE-323 Ribbon Microphone Motor Prototype
Today I have assembled the first prototype of a new RE-323 ribbon microphone motor with a ribbon installed! The mechanical design is quite sophisticated, but all the parts come together neatly with just a tiny bit of filing for FR4 pads. Cool, taking into account that they were machined by three different local contractors...
It took some time to come up with a concept design, but when few small mechanical problems got solved, it was a matter of two weeks to have the real parts made of matter in my hands. There will be corrections for sure, there always are, but generally this thing came out rather neat from the first attempt.
The main frame is CNC milled out of the mild steel for the best magnetic performance as a magnetic flux return circuitry, then nickel plated. The ribbon assembly plate is laser cut from stainless steel to magnetically neutral. It is not perfectly neutral, as brass would be, but still good enough and keep the costs within the reasonable limits. However, I think of using water-jet next time, as laser cuts are not clean enough. We'll see. The contact pads and clamps are made from FR4 (pcb material) by a local PCB plant.
This design falls into small-ribbon category, as ribbon length is 1". The width of a ribbon is 1/8" (3.2 mm). The outside dimensions are the same as of older RE-254 motor. It was made this way, so it would be usable in same RM-5 bodies. Thus, everyone who owns a kit will be able to upgrade.
After the first prompt test it sounds surprisingly similar to RE-254, but provides slightly higher output signal level. Might seem strange, as magnets are twice smaller, but the key is very well designed magnetic return circuitry (frame), that does not saturate and thus concentrates the flux in the gap. I will experiment with thinner foil too. It should make signal level even higher, however, the transformer will probably have to be modified for higher primary inductance, as output impedance of thin ribbons is higher as well (because they have higher DC resistance).
I will post an update when there is a reasonable progress with experiments and tests.